Back
Research team leaves for 2013 Chagos expedition
Today, four Trustees of the Chagos Conservation Trust (CCT) are leaving to join an international team of scientists on board a research ship in the Chagos Islands.

The team will be studying marine and island wildlife in the world's biggest no-take marine reserve. Their work will help develop vital monitoring techniques for the effective management of this globally important ecosystem.
Professor Charles Sheppard is expedition team leader:
"This expedition forms an important continuation of our programme both
to improve our understanding of this exceptionally vibrant reef system
and our ability to monitor its condition."
Research will include an examination of shallow reef coral, which will contribute to the longest ever time series of reef condition data in the Indian Ocean.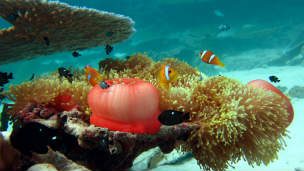 Yannick Mandarin, a recent graduate of the Zoological Society of London and CCT's Chagossian Community Environment Project, is also participating in the expedition:
"I'll be working with an ornithologist monitoring seabirds on several of the islands.
I hope I'll learn a lot from the scientists and I'm so happy to be joining them."