Back
Chagos Community Environment Project: Chagos Fun Day
Saturday 7th July saw the first Chagos Fun Day for members of the Chagossian Community in the UK. Hosted by ZSL London Zoo, in cooperation with the Chagos Conservation Trust, Coral Cay Conservation, Royal Botanic Gardens, Kew, RSPB, Sea Urchins and the London School of Diving, families were invited to attend a fun packed educational event with activities aimed at promoting awareness of environmental and conservation issues affecting the Chagos Islands (BIOT). Over 500 members of the Chagossian community from Crawley had the chance to explore the marine lab, make their own reef creatures and try SCUBA kit, as well as exploring the zoo in search of Nemo, aka the endemic Chagos clownfish, Amphiprion chagosensis. The day ended with a discussion asking 'why protect Chagos?', which gave attendees a chance to ask more about the environmental threats and related conservation work in the Chagos Islands, as well as to find out about how they could get involved in their protection.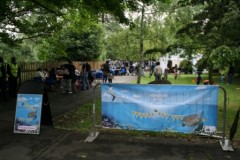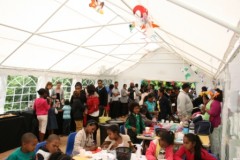 Dr Heather Koldewey, Head of Global Conservation Programmes for ZSL and a member of the CCT Executive Committee, said 'We had a really enjoyable day with Chagossians of all ages and were delighted that so many people attended. This is just the start of what we hope will be a productive collaboration with the Chagossian communities, which will enable us all to work together to protect the unique natural environments of the Chagos archipelago.'
A second fun day is planned to be held in Manchester on Saturday 21st July. These events are part of the Chagos Community Environment Project, a joint initiative of CCT and ZSL, funded by the BIOT Administration, which is seeking to provide environmental training and education to Chagossian people. Attendees at the fun days are given the opportunity to sign up for an in-depth training course covering environmental and conservation issues relevant to the Chagos and elsewhere. Spanning over eight Saturdays and including both classroom teaching and applied learning, the course, delivered in collaboration with the project partners, will provide attendees with a broad base of skills and knowledge which they may use to further their careers, conservation focused or not.

If you have a query or would like to get involved in the project, please contact Xavier Hamon, Rudy Pothin or Rebecca Short.