Back
2015 Darwin Science Expedition - Day 23 - Danger Island Coral Gardens and Rubble Beds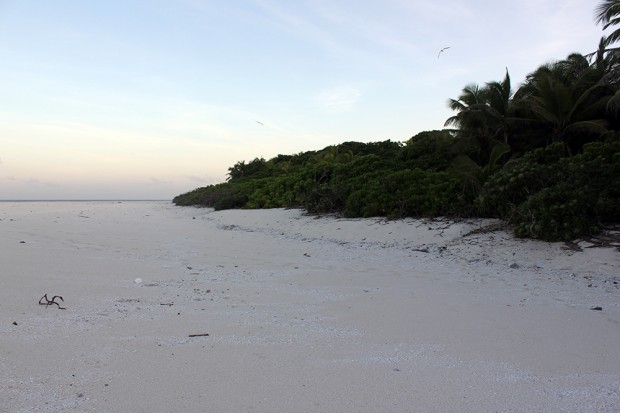 An interesting swim onto Sea Cow Island last night. This is a circular island with steep beaches or rocky shores and the only way to get there is to swim. Entertaining when swells are bending round the island and meeting each other on the other side in a tumultuous blend of waves. The night was still, beautiful and starry.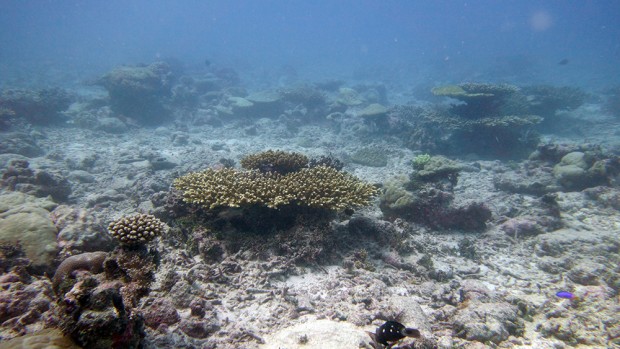 Under the canopy it was quiet while overhead the birds were whistling and squawking as they passed the night through before heading off foraging again in the surrounding seas the next morning. Undisturbed Indian Ocean hardwood forests on this island are interspersed with wide grassy open areas. Although they are not as prolific as on some of the other islands the Coconut Crabs we did find here were large specimens. It is evidently a rich environment for those that do make a home here. We ended the night sleeping on the beach and when the moon rose around 11pm it was so bright colours could be made out on the island vegetation at the edge of the beach.

After a good night's rest we woke up to the same sound of crashing cross of surf which provided another battering swim out to the research vessels tender that was sent to pick us up. The research vessel herself was already under way to Danger Island. We rapidly caught up in the fast inflatable and were winched aboard for some breakfast. After a short transit we were soon back in the water again to head to the Oceanside of Danger Island. What a beautiful site.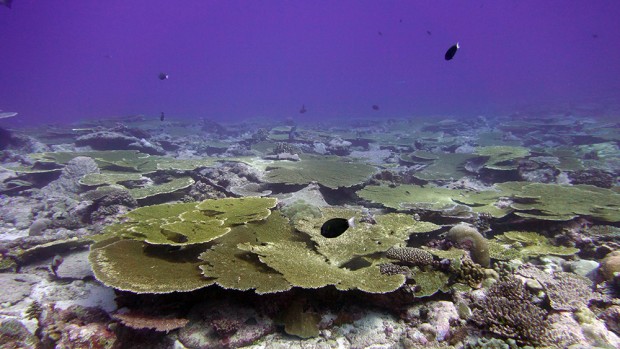 This is what Eagle Island's reefs looked like prior to the blight that swept them. Rich beds of coral sweeping on as far as the eye could see. Schools of fish hovering over the crests of coral. Turtle meandering by and sharks occasionally cruising through.

VIDEO https://www.youtube.com/watch?v=A_OUpBcdUXU

By contrast the lagoonside of Danger has also been blighted – large swathes of rubble interspersed with live coral heads. Last year when we came through this site had recently been struck by whatever plague affected it and there were extensive stands of branching coral recently dead and covered in algae. This year all of that skeleton has collapsed and is spread across the bottom in a jumble. Encouraging are the frequent interruptions to this of surviving corals livening up the bottom. Certainly hope that in the years to come a full recovery will be made and once again the bottom will be covered in such colour rather than the light hues of degrading rubble.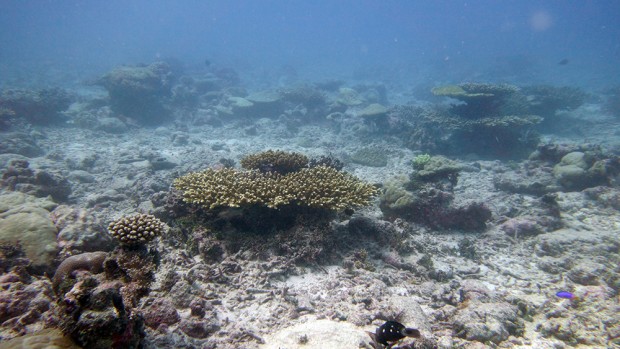 Now as we approach the end of our expedition it is a good time to offer a few words from Claudia who joined has joined us from the Chagossian community in Manchester.

'I have had the rare opportunity and was extremely fortunate to be part of this expedition. Observing, learning and supporting the team was a great experience. The team was very professional, supportive and you could easily see their passion for their work. Discovering the beautiful islands full of rare tropical birds species and native plants was breathtaking. Helping to conserve these delicate ecosystems, rescuing a turtle caught on nets, overnight coconut crab survey and waking up to a storm on a deserted island were great adventures. It was hard work but so much fun, truly one of the best thing i ever done.

I was also overwhelmed by the pristine marine environment and what makes it more rewarding is that i was able to identify different marine species ( through the enviromental training i was given prior to the expedition ). I improved a lot in diving and cannot wait to get back in the water. Definitely one of the best experiences of my life.'